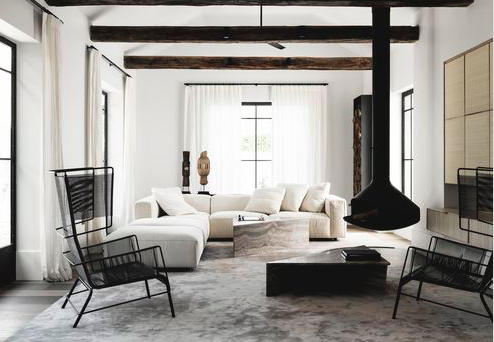 .01
interior spaces
My design philosophy is strongly influenced by my belief that the mind, body and spirit are all interconnected. My personal experiences, combined with seven years in the design industry, have made me realize not only the value of conscious living but also the importance of the energetic vibration in a home and how it impacts the people living in it. In my craft, I create thoughtful, intentional spaces that positively affect my clients' emotional and physical well-being. My intention as an interior designer is to understand how my clients utilize and move through their environment so we can bring purpose, joy and personal connection to every room. While staying true to my minimalistic design rules of "quality over quantity" and "form follows function", I love creating organic spaces that are layered with texture, color and pattern. More importantly, I am passionate about designing spaces that are loved and lived in, and reflect the uniqueness of the people living in them.
Full service design
Best for clients that need help designing an entire space and want me to manage your entire project. I am with you each and every step of the design process. This service is perfect for new builds, and renovations. I work closely with your architect, builder &/or subcontractors on the project to help create a cohesive plan, from beginning to the end.
 
Design Package
Best for clients who want to work with me but are looking to work on their project at their own pace and who might not be in need of the full range of services. Clients want the look I can offer but plans on managing their own project.
.02
intuitive constulting
We all have a wonderful connection to a higher sense of awareness that already knows where we are supposed to go, the route we are meant to walk in this life. As an intuitive, I tap into your heart path and help you make a shift, by giving guidance on staying aligned with your soul's purpose as you move through your transition and reconnect with you inner compass.
Book an intuitive session here.
Full service design
$150/ per hour
DESIGN PACKAGE
$130/ per hour with a 10 hour min.
iNTUITIVE SESSION
$55/ per hour via phone